A real all-rounder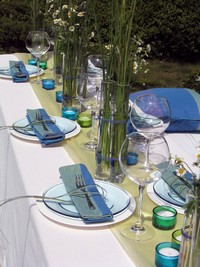 No piece of furniture of the house is used more often, so intensely and for so many different occasions like the table.
Whether being used for meals, for playing cards, for homework or just for sociable evenings, this piece of wood with its four legs must be changeable like no other.
Table Linen add to this furniture and also to the entire house elegance, comfort as well as cosiness.
If classy or colourful, or simply in plain, with patterns and fringes, there are no limits of imagination.
When celebrating the kid´s birthday already the smiling clowns will spread good spirits. And also the X-mas Turkey will taste a lot better, when underneath the plate there will be a heavenly angel holding the poinsettia.
For every occasion you will find a suitable Table Cloth.
Either in classical checks, printed or in plain colours, our range of products offer all you can wish for.
And who is not aware that a nice table decoration is also "a feast for the eye"!
Table Linen rounding the product line
Bone China and crystal glass are noble accessories, but without a suitable ground they are only half as exclusively.
And on top of that, as a side effect of looking nice, the table cloth also offers protection against stains and scratches.
Such useful item is of course exposed to extreme stress. A spilled glass of red wine, splashes of tomatoe sauce, chocolate fingers, everything must vanish for mother in law´s next visit.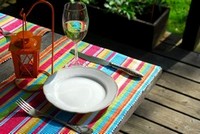 Whereas the quality must be affordable, as compared to other textiles you can never have enough of them in the house. Therefore we offer top quality at best prices.
The creation of an individual collection is possible, but you can always fall back on our own collection of Easter Rabbits, Santa Clauses or spring flowers.
Let yourself be inspired by the season, moods and your personal taste to make the most out of the piece of furniture called "table".